Last updated: October 15, 2012 @ 4:40pm

Pathfinders are safely home...
The Pahtfinders from St Maarten have made safely home after spending and extra night in Anguilla due to the recent Tropical Storm Rafael. To God be the glory



Pathfinders are still in Anguilla...


Dear Parents,
Greetings from Anguilla. Owing to the weather situation we are still unable to move from Anguilla. Even though the congressoree was officially closed at noon yesterday Sunday as the only pastor with the group I have taken charged of managing the situation. We are housed at the Mt. Fortune churches. The boys are at the old building and the ladies at the new building.

At the moment I am unsure of the time we will leave Anguilla for SXM. We were all ready to travel this morning at 6:45AM at which time we received communication from the port that the water is worse. As a matter of fact i have just received word that the ports in Anguilla and St. Maarten are now officially closed, which means that we may not be able to leave Anguilla today monday. The children are safe. We. Are trying hard to keep the morale up and to control the environment. Keep praying for us and for the weather to ease up for us to travel safe.

. The decision with the ports will be reviewed at noon and a further update will be issued.

The pathfinders from St. Eustatius hopefully will be leaving this morning starting at 10:30. We wish them safe flight back home. Please pray for them.

We have close to 200 hundred of us here to travel back. The number includes parents and friends.

As soon as I have further update I will let you know.

--
Pastor Royston Philbert
Senior Pastor
Cole Bay, St. Peters SDA Churches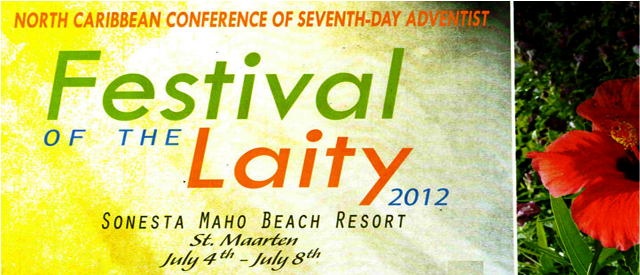 The Festival of the Laity 2012 is just around the corner. Delegates from the various islands around the North Caribbean Conference await the opening ceremony this Wednesday July 4th beginning at 6:30pm at the Maho Sonesta Resort on the island of St Maarten. They will display their national colours as they report on evangelistic activities.
This festival promises to be a fulfilling and life changing experience as our guest facilitators include Evangelist Mark Finley and his team, Dr. Derek Morris and his wife, Dr. Balvin Braham, Pastor Samuel Telemaque, 3ABN representation, Dr. Eugene Daniel, Dr. Kern Tobias, Pastor Danfort Francis and other distinguished leaders of the SDA Church. We invite you to come and be blessed! Click here for schedule